If you think opening your personal bank account in Hong Kong was a hassle, wait until you need to open a corporate bank account for your startup. This article is a guide to open and maintain a corporate bank account. Hopefully it will give some clarity and help with preparations. All information is based on official documents released by the banks themselves and by the Hong Kong Monetary Authority (HKMA), my personal experience of opening three bank accounts between 2016 and 2018 at different banks for my own startup, and insights I got from other startup founders.
Why is it so difficult to open a corporate bank account?
In recent years, international efforts to prevent money laundering and terrorist financing have increased significantly. At the same time, global sanction policies and other regulatory requirements have further complicated the landscape in which banks now operate. As a result, banks are subject to much tighter international standards in establishing and maintaining relationships with potential and existing customers. The sad truth is that it used to be easy to open a corporate bank account in Hong Kong. From my research, the turning point was in February 2012 when the police arrested 4 Hongkongese who had opened 10 bank accounts in the name of shell companies and had laundered a total of HKD 1.8 billion since June 2010. After this event, the HKMA issued new, strict guidelines as to what constitutes an appropriate bank account application. Startup companies with no financial history and an innovative business model (which traditional banks might not understand/appreciate) became the first "victims" of these guidelines, which require unreasonably tight due diligence measures. These measures are particularly stringent if any of the founders is a non-permanent resident, if the ownership structure is complicated, or if the bank has doubts about the future profitability of the startup (e.g. unexperienced management team, revenue projections too far in the future, etc.).
Which bank should you choose?
Based on my experience and discussions with other founders, the least bad banks are:
DBS Bank
HSBC
Citibank
Hang Seng Bank
BOC
Any bank more local than these should be avoided.
What should I check before opening a bank account?
Before formally starting the application process, take a look at following list of important points:
Your company must be incorporated and have an office address in Hong Kong.
The number of shareholders or directors should be between 2 and 5. The more people you involve, the more difficult it will be.
The executive directors should be entitled to work in Hong Kong (permanent residency or valid working visa).
Don't raise funds and have investors owning shares in the company through their own investment company. The bank will require the identification documents of all shareholders of the investor's company.
None of the shareholders or directors can have a passport from the United States, Russia or any country subject to United Nations sanctions (list available at here). If this is the case for you, better temporarily remove the person from the company and include her/him after opening the bank account.
If your company gained awards in open competition or is part of a reputable incubator or accelerator program, make sure to highlight this during the application.
What is the process of opening an account?
The interview
When you are ready to start the application, you can book the interview appointment. The interview takes 1.5 to 3 hours and is conducted face-to-face with two account managers at the bank's business center. One account manager will assess your background and the nature of your business while the other will verify the following documents:
Certificate of Incorporation
Business Registration Certificate
Most recently filed Annual Tax Return
Contracts with customers, if any
Business plan that can be in PowerPoint format and includes:

Business overview
Market analysis
Highlight of technology/service
Organization management
Revenue model
Source of funding
Financial projections

Business cards of directors
Resumes and reference letters of directors
I would recommend letting your company secretary agent prepare the documents.
Interview follow-up
No matter which bank you chose, you and your business partners can expect to get back to the business center at least 3 times in person before the account managers confirm they have gathered all outstanding information. The remaining due diligence process then takes 4 weeks to 3 months and if you are lucky you will eventually have a multi-currency account approved. I would recommend being persistent and calling the account managers every few days for checking the application status and emphasizing the importance of having the bank account opened soon. This helps getting your application prioritized.
Are there fees involved?
At the end of the bank account opening interview, you will be asked to pay a bank opening fee of HKD 800 to 1,200 for processing your application. This fee is non-refundable even if your application gets rejected. Additionally, the bank will charge you for transactions to other local or foreign banks, take commissions for currency exchanges and require a monthly fee if your account balance is below a pre-defined minimum. The charges depend on your bank and on the circumstances.
Can I get corporate credit cards?
Credit cards are approved rather easily once your bank account is opened. However, the total monthly limit (across all cards issued for your company) can vary greatly from one bank to the next. The monthly limit of BOC and Hang Seng credit cards for startups and SMEs, for example, is HKD 10,000, while HSBC, DBS and Citibank will allow you to go up to HKD 50,000. You will need to build the relationship with your bank and maintain a perfect credit score to eventually be allowed to increase your limit.
How is the online banking experience?
Online banking is a joke. The systems are archaic, insecure, and require a PhD to be used. It is still unbelievable to me how large banks with billions in assets are not capable of providing a decent online banking system that allows users to perform basic banking operations. To share a couple of personal experiences:
Our first bank account was with BOC. We decided to setup a dual authorization policy that requires at least 2 directors to authorize a transaction before being processed. The purpose of the policy was to ensure good corporate governance and avoid transactions done by mistake. Nevertheless, my co-founder could process her first large payment without anyone authorizing it. Worse, due to a "small bug" (I quote BOC hotline), the payment was processed 7 times, with bank charges incurred each time. Our confidence in the bank hit rock bottom.
When we later moved to HSBC, we had the case that the bank withheld a large transaction coming from a European customer without notifying us. The transaction was a recurring payment that was done successfully multiple times in the past. Our assumption was that the customer did not make the payment and we started an investigation that ended up deteriorating our business relationship. HSBC could not provide a reason why the transaction didn't go through.
And if you are used to a nice, modern online banking interface, you will be disappointed. With all the local startups developing great FinTech solutions, it is sad to see how little is actually used by Hong Kong banks to improve the end users' experience.In case you need assistance with your online banking, be aware that the customer service is terribly bad due to the banks' inefficient standard operating procedures and strict separation of responsibilities by departments. You can expect every small request to require your physical presence or to pay a fee for services that should be included in your banking package. Examples are increasing your daily transaction limit or requesting to reissue a bank statement.
Is Commercial Lending an Option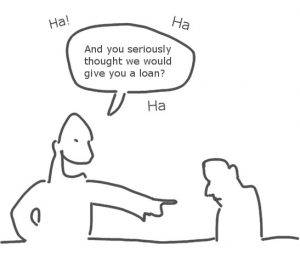 Don't make the mistake of expecting your bank to support your business when you need it the most. We were looking for a bridge loan at a certain time to match Government funding and got turned down by all 5 banks mentioned above.
HSBC had a special promotion for providing loans to startups incubated at HKSTP and Cyberport. Nevertheless, they rejected us without providing a reason, though two of our directors with permanent resident status agreed to personally guarantee the loan.
BOC showed more humor and suggested we take a personal loan and inject the money into the company.
The other banks didn't even bother to look at our application as companies have to operate for at least 2 years to be eligible for their loans.
We ended up taking the loan from friends. The answer is no. Commercial lending is not an option for startups in Hong Kong.
Anything positive to say about banks?
If you successfully managed to open a bank account and have an exciting idea you are able to communicate clearly to your bank account managers, there is a chance your company will be selected for the Employee Benefits Program. This special program is only for startups and gives all employees privileges such as a free upgrade to Premier personal account with a fee waived for 2 years. After all the hassle this is a pleasant surprise.
Conclusion
Opening a corporate bank account is a bureaucratic nightmare, yet an essential process for getting your startup up-and-running. Make sure to be well prepared and start the application early. Ask your company secretary agent to help you with the administrative documents and set your expectations as low as possible. Then close your eyes and cross your fingers that the due diligence goes well.