This article is a practical guide to incorporate a startup as a Private Limited Liability Company in Hong Kong.
All information is based on the detailed requirements that are publicly available on the Hong Kong Government website and on my personal experience of founding the startup Datacrag in 2016.
Templates
Desperate Founder - Accounting Report Template

39.68 KB
Enter Correct Password to Download
You can download all templates available on this page by entering your password and clicking the submit button.
For getting your password, join the community by simply entering your first name and email address on the top right corner.
Your password will be sent to you per email and is valid for downloading all resources on the Desperate Founder site.
Company Name
Changing the company name is a simple process; however, I would recommend carefully selecting a permanent name at the moment of incorporation. The administrative tasks related to a name change (e.g. change of bank account name, change of company name in tenancy agreement, etc.) can be time-consuming and are unnecessary.
Requirements:
The name cannot be the same as another company that is already registered in Hong Kong (company name database).
The name cannot be offensive.
Recommendations:
Easy to remember and pronounce.
Domain available and good SEO score (.com domain recommended if you are a B2B company).
Trademark available in Hong Kong for the relevant business class (trade mark database).
Choose a generic name that does not bind your company to a specific product or service, as this will give you flexibility to pivot your business at a later stage if needed.
Note that the name of products/services can be different from your company name; however, it is useful to have a nice name that customers and partners can relate to.
Company Secretary
A Private Limited Liability Company in Hong Kong must have a local resident as company secretary – individual or body corporate. I would strongly advise delegating this role to a licensed agency as it is cheap and gives you confidence that all official documents are handled properly.
There are many agencies available in Hong Kong. To find a good one, you can check if the fee for below services is in the expected range (too cheap is suspicious) and if the firm has employees who can communicate in English. Also, the agency should request that you fill out a questionnaire before it works with you.
Fee Type
Service
Fee
Agency
Provision to:
– File the incorporation documents with the Company Registrar
– Obtain the Certificate of Incorporation
– Prepare company kit (common seal, stamp, share certificate and share register, statutory books, articles of association)
HKD 1,900 to 2,300 one time
Agency
Assistance in opening the corporate bank account (pre-screening, scheduling appointment with the bank, follow up with the account opening status, etc.)
HKD 1,000 to 1,500 one time
Agency
Provision to:
– Act as the company secretary
– Keep all copies of the statutory documents and minutes properly
– Remind and assist the directors to submit governmental documents to Companies Registry in advance
HKD 1,500 to 3,000 every year
Agency
Provision for the registered office address
HKD 3,000 to 8,000 every year
Government
Renewal of Business Registration Certificate
HKD 2,250 every year
Accounting and Bookkeeping
Bookkeeping is the recording of financial transactions and is part of the process of accounting in business. Transactions include purchases, sales, receipts and payments by your company during the fiscal year.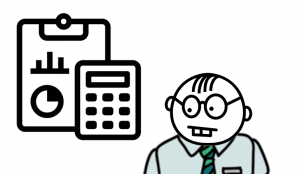 Until you can afford an office administrator, it is important to keep your books updated on a regular basis (ideally once per week). We did not do this very well in the first year and it required a lot of work to bring our books in order.
Your books can consist of a simple Excel file with the following spreadsheets:
Bank account ledger (one spreadsheet per account)
Credit card ledger (one spreadsheet per credit card)
Expenses records
Revenues records
Loan records
Foreign exchange records
When it is time for the annual audit, you can instruct your accounting agent (which could be the same as your company secretary agent) to convert the information into standard formats and present to the auditor for verification.
Note that I tried out the cloud accounting software Xero and QuickBooks as well, but I found that the combination of our Excel file and accounting agent worked better for us.
The accounting Excel template is part of the download package above.
Audit and Tax Filing
Part of the annual maintenance of your company is to prepare an auditor's report and file a profit tax return to Inland Revenue Department (IRD). These 2 documents will determine the amount of profit tax, if any.
The auditor's report has to be released by a Certified Public Accountant (CPA) in Hong Kong. Even if you expect your company to be at a loss, it is still required to have the Auditor's Report to support calculations of the loss according to Hong Kong's accounting practices.
The total fee for releasing the documents depends on the number of transactions, employees, invoices, receipts and bank accounts, as well as the turnover of the company. For a startup that has a low number of transactions, the amount charged by the accounting firm would be between HKD 5,000 and 20,000.
Be aware that this process takes longer than what you might expect, especially if you were not particularly diligent in keeping your books updated! Furthermore, the penalties imposed by IRD can quickly become expensive. In the case of my company, we managed to miss the deadline for filing our first tax return and had to pay a fixed penalty of HKD 1,200. If we had delayed the filing further, the directors would have been personally fined HKD 10,000 plus 3 times the amount of tax for the year of assessment. Better to take this seriously and contact a CPA even before receiving the tax return form from IRD.
List of Important Documents
I would recommend always keeping a hard and soft copy of the following documents. These will be required during the audit, bank account opening and due diligence processes. You can ask your company secretary agent to prepare most of the documents for you.

The incorporation form (NNC1)
Annual return (NAR1)
Return of allotment (NSC1)
Latest Business Registration Certificate
Articles of association
Certificate of Incorporation
Certificate of name change, if any
Notice of change of company secretary and director (ND2A), if any
Notice of resignation of company secretary and director (ND4), if any
Notice of location of registers and company records (NR2), if any
Shareholders' agreement
Minutes of all board and shareholder meetings (including Annual General Meeting, which is mandatory)
All bank statements from all bank accounts
All credit card statements from all credit cards
All correspondence with IRD
All business transactions since the creation of the company (your accounting file and corresponding expenses receipts and sales invoices)
All agreements signed (SOWs, written resolutions, director loan agreements, etc.)
Identification documents of all shareholders and directors (passport, HKID and residential address proof (i.e. personal bank statement))
Conclusion
That's about it. Setting up a company in Hong Kong is a straightforward and inexpensive process. However, it is important to do it the right way to avoid troubles at a later stage.
Make sure to choose a permanent company name and select a good agency that will act as your company secretary and help you open a bank account, prepare the annual auditor's report and file the profit tax return to IRD.
With the administrative steps completed correctly from the first day you will be able to cut the paperwork and focus on what matters to make your startup become a success.
As a final note, I would like to point out that while opening a company is easy, the process of dissolution/liquidation can be a headache. For this reason, I would recommend testing your business idea and making sure to identify a target market with customers willing to pay for the product or service before moving forward with the incorporation.